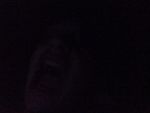 Screeeeeeeeeeeeeeee is a mysterious effect that occurs during night and in the void.
Trivia
Screeeeeeeeeeeeeee is often theorized to have dark origins.
Screeeeeeeeeeeeeee is infamous for scaring players.
Skittleflake says

Screeeeeeeeeeeeeee is actually caused by E.L. Wallace's pet, Anastasia. It is unknown if this is actual truth.

SPOILER ALERT: Brendan created the Screeeeeeeee by photographing himself at night.
It is also found on Brendan's deviant art.
When in the Void, Screeeeeeeee will intensify by 42%.