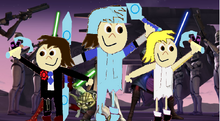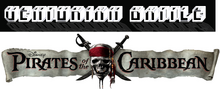 Season Four is a season of Venturian Battle based on episodes of one of Brendan's favorite TV shows, Star Wars The Clone Wars, and one of his favorite movie franchises, Pirates of the Caribbean.
Episodes
Geonosian Arena: The Jacob Knights are put in the Geonosian Arena to be executed by Acklay, Reek, and Nexu. Find out who killed... and who, if any, aren't!
Duel of the Bots: The Jacob Knights get two robots built from pieces of rockets, camera stands, and nerve agent explosives... and one is evil!
Ad blocker interference detected!
Wikia is a free-to-use site that makes money from advertising. We have a modified experience for viewers using ad blockers

Wikia is not accessible if you've made further modifications. Remove the custom ad blocker rule(s) and the page will load as expected.