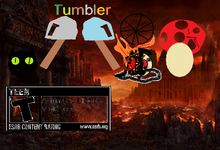 Tumbler is a minigame in Venturian Battle.
Gameplay
In Tumble, up to eight players online, with up to four players local, can battle in two modes: Shovel, snowball, mixed. The object of the game is to knock down players from the floating platform into the lava below by destroying blocks from the platforms by using snowballs or shovels. So far Tumble has about four different platform layouts which are selected at random. The first player to win "two out of three" rounds wins. Players can vote before each match on whether they want to use only shovels, snowballs, or randomly mixed rounds of each of the two aforementioned "weapons".
Ad blocker interference detected!
Wikia is a free-to-use site that makes money from advertising. We have a modified experience for viewers using ad blockers

Wikia is not accessible if you've made further modifications. Remove the custom ad blocker rule(s) and the page will load as expected.