I was plannin on doin a vlog, but I decided to dis instead. 
9:00-10:00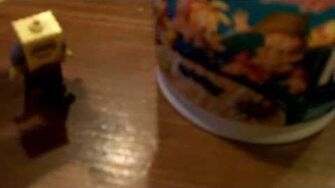 Well, today is my second day of camping. If you were wondering why I was so inactive yesterday was because I was camping, and there was no wifi, so I had to rely on dad's hotspot. For breakfast (which was one or two hours ago), we had some atramuz and a small slice of napolean. My brother and mom went on a walk after, and I had to use the loo, so I went to the lavatory, and ran out of our camper to my bro and mum. I dunno if they were surprised I was coming on their walk over the beach, our if they knew I had to use the bathroom. Well, we decided to go home, and I started writing this blog on my parents' computer. I also brushed my teeth. Man, I wish I could have the mulberry Prank Food that actually tastes like toothpaste, so that way my parents would think I brushed my teeth. Anyhow, my mother is preparing to go to work, and mah bro is swinging on our hammock while wearing lingerie. Yeah, my mom told him that he will need to tell his wife that he swings around on hammocks while wearing panties. Well, nothing really is going on, so I am gonna wait until my mom goes to work.
10:00-11:00
Still nothing going on. My parents have done no sh*t but prepare for the past hour, so decided to have some Cheez Its. Well, mother is going to work (supposedly), so I decided to say "bye". Unless she is not going. In which I just wasted three seconds. Well, yeah, she did go to work. ANyhow, eating more cheese its, my father is getting some coffee and working on his laptop, so I decided to get a cup of dairy to drink while eating a whole bag of Cheez Its. Well, I decided to crack open our Wii U on Wii Mode. I wish I could get some games from there, but my parents are concerned on us spending too much dough. We are gonna see the GhostBusters movie in two hours, so I will be afk for two hours. Literally, NOTHING is happening today!
11:00-12:00 
I decided to play some Team Vanquish in Plants vs. Zombies: Garden Warfare. Still, NOTHING! Well, dad is making us lunch, and first, we are having some grapes. Also, I am making the Metaworld guys in Go!Animate. I ate a peanut butter and jelly sandwich, and now we are going to see Ghostbusters!
Ad blocker interference detected!
Wikia is a free-to-use site that makes money from advertising. We have a modified experience for viewers using ad blockers

Wikia is not accessible if you've made further modifications. Remove the custom ad blocker rule(s) and the page will load as expected.