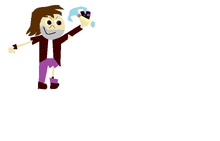 Venturian Man is a song in Season One of Venturian Battle.
Lyrics
Venturian Man, Venturian Man, 
Does whatever a Venturian can  
Spins on ivy, any size,  
Catches it just like flies  
Look Out!  
Here comes the Venturian Man. 
Is he strong?  
Listen bud,  
He's got plutonium blood.  
Can he swing from some bread  
Take a look overhead  
Hey, there  
There goes the Venturian Man. 
In the chill of night  
At a scene of grime 
Like radiant light  
He arrives just in time. 
Venturian Man, Venturian Man  
Docile Venturian Man 
Wealth and fame  
He's ignored  
Action is his reward. 
To him, life is a great big bang up 
Wherever there's a hang up 
You'll find the Venturian Man.
Ad blocker interference detected!
Wikia is a free-to-use site that makes money from advertising. We have a modified experience for viewers using ad blockers

Wikia is not accessible if you've made further modifications. Remove the custom ad blocker rule(s) and the page will load as expected.